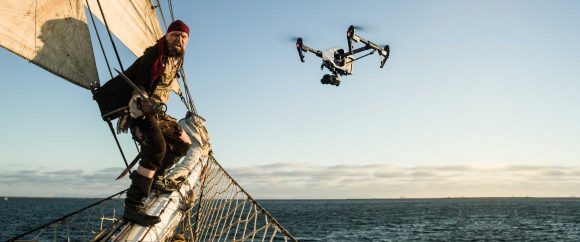 The Inspire 1 from DJI is the latest aerial technology with an advanced package that involves being packed into a simple, ready to fly system hence putting you in the sky within minutes. It is light in weight, but it provides the stability you need, and it is powerful.  It has carbon fiber arms that will help maneuver in the air and will move out of the cameras' way at the flick of a switch giving a 360° obstructed the view of the camera to capture independent shots depending on where you are flying.
The 13-inch rotors designed with the unique DJI "Z-Blade", have been reinforced with carbon fiber materials to ensure that there is increased stability and excellent performance. Each motor is brushless and also has curved magnets that fit well around the edges which work to eliminate airflow gaps inside the motors hence significantly increasing their efficiency.
The Inspire 1 is powered by an intelligent battery that virtually manages itself. While flying, it will indicate how much power is left, and it can also calculate the distance of your craft and estimated time of return home hence you will know when it's time to fly back. As it flies, you are also regularly updated with its position and records using a high-strength intelligent GLONASS + GPS system. This enables you to know where the aircraft is currently and giving it the chance to float when the controls are released. The central controller of the system receiving thousands of data bits and translates into action as it flies. Its' work is to ensure that Inspire 1 responds to your control commands instantly.
The camera of Inspire 1 is engineered into Zenmuse X3 gimbal hence being able to be stable in the sky and get professional footage all the time. Your work is to tap the screen and drag your finger to the point you want it to look, and it rotates and tilts. It offers a 360° range and with one simple touch, you can see and record images below, behind and slightly above when you are flying.
Inspire 1 is operated by a remote control that has dedicated buttons for every feature in it. Its' software makes you feel as if you are riding in a cockpit and it has rechargeable batteries which will last for long to enable you to make multiple flights. The remaining battery life is shown on the remote and has built–in alerts to warn you in case it goes low.
The DJI GO app is also incorporated in the Inspire 1 which allow you to view live HD feed directly from the camera on your screen. The app also gives you full control of your camera, and you can adjust your setting to get live HD images for a perfect shot. You can stream your flight live on YouTube and share it with family and friends all over the world.
You can put the Inspire 1 on autopilot if needed and it's able to return to you if the battery runs low or the connection with your remote is lost.