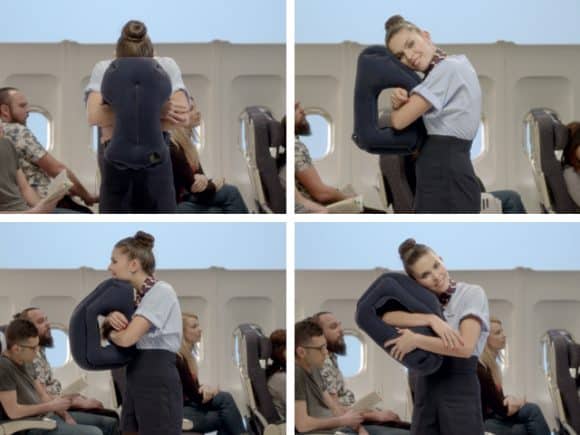 Sleeping on a plane is pretty much hard for most people. And for that reason, long flights are quite tedious and sometimes awful. Although a wide variety of travel gadgets such as neck pillows are available, some of such gadgets are not always comfortable. Some people even end up taking sleeping pills in an attempt to bear with long flights. However, you no longer have to stress about such problems anymore. The new inflatable travel pillow, the Woollip, lets you take a nap while leaning forward as opposed to sleeping upward straight.
Unlike ordinary pillows, the Woollip is inflatable and not excessively-stuffed. As a result, the pad does not take up much space. As soon as you are ready to sleep, you just inflate the Woollip using your mouth.
Using the travel pillow is rather easy. By only opening the rising valve and blowing in a few times to allow enough inflation, the travel pillow is ready for use.  The pillow features the inflation valve at the back of it. Additionally, you may inflate the device by holding the valve wide open close to the planes air vents. The next step is to tie your arms by the center opening on the pillow and relax your head on top.
An additional attractive feature of the Woollip is its usability in a variety of ways. Among such methods include pointing your face down straight, tilting your head to the side or resting your chin on the top part. Moreover, you may use the travel pillow to comfortably lean against the wall or resting it on your lap.
For travel enthusiasts, the Woollip is a perfect gift idea. The travel pillow features an innovative and unique design that lets anyone find their perfect sleeping position while on a plane.
In less than a minute, you can deflate and fold and pack the travel pillow by just opening the valve completely.
Since the travel pillow is currently in its funding phase by IndieGoGo, it will be available in March 2017.  Reserving one early enough is advisable.