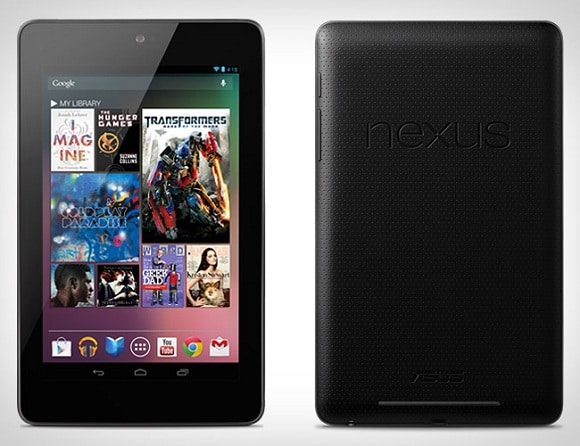 Google has also jumped into the tablet market with their Nexus 7 tablet which you can own for $200 and it's better than most tablets in its class in every way. A nicely textured rubberized back is one design features that places it miles apart from its competitors. The overall construction is very simple. There is only a 1.2-megapixel shooter in the front and a single speaker towards the bottom of the back. There is a micro-USB connector and the 3.5mm headphone jack. A silvery ring that looks like brushed metal, runs around the full device. Nexus 7 is a bit chunky but that gives it a very sturdy and strong feel.
It measures 10.45mm (0.41 inches) thick, which is just half a millimeter thinner than the Kindle Fire but weighs only 340g (12 ounces) which makes the Nexus 7 much easier to carry around or hold in front of you for an extended period of time.
Nexus 7 is fronted by a very nice 1,280 x 800 IPS panel rated at 400 nits of brightness. Text is rendered very clear and readable and 720p videos look great. For the given price, the screen has a good contrast irrespective of the viewing angles and brightness of the room.
The Nexus 7 is the first device that would be shipped with Android 4.1, a.k.a. Jelly Bean which promises to be much faster.  The Google Nexus 7 tablet is expected to start shipping by mid-July and Google is accepting orders now online via their play store.
Buy It:  $199