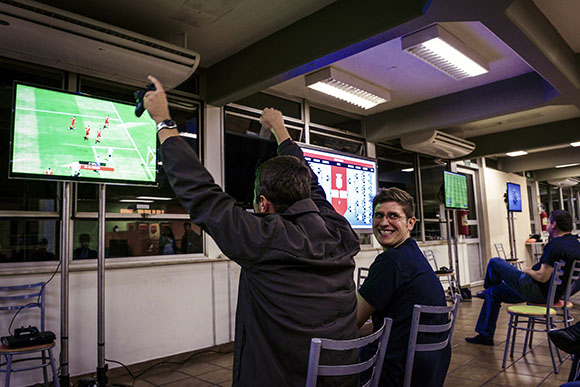 If you have a spare room at home, why not transform it into a usable space? If you're interested in tech and gaming then a gaming or media room could be a great option. A place for gaming marathons, alone or with friends or somewhere to watch movies. A man (or woman!) cave where you can kick back and relax, consume your media of choice, unwind and have fun. But what kind of cool tech do you need to make your gaming room as good as it can be? Here are a few ideas.
Smart Home
Smart home is becoming increasingly popular, and is something that every tech lover needs in their property! Giving you the ability to turn lights on and off via an app or voice controlled speaker, adjust the temperature, check cctv and much more it's something you need to get on board with if you haven't already. Smart lighting in the gaming room is especially good, you can purchase bulbs that can be adjusted to be any color or brightness. This would give a really cool ambiance and finish to the space! You can have it hooked up to blinds and curtains to open or close them, as well as set it up to speakers for the best sound quality. It just puts you in full control of everything you might need to change or look at, leaving you free to get on with your gaming marathon.
A 4D TV
If you're a console gamer or you like to use your gaming room as a place to watch movies then a 4k tv is a must. This is a television with around eight million pixels, seriously impressive for ultra crisp and clear picture. It's around four times the resolution of a regular HDTV, with a screen resolution of 3840 x 2160. For something even more impressive, how about going with a curved model? By the image slightly curving forward, whatever you're watching seems to 'wrap around' you more. It allows more image to enter into your peripheral vision and draws you deeper into what it is that you're watching.
A Good Laptop/ Computer
If you're a PC gamer, then you should compare laptops and computers and make sure you have the best one for your needs. Because games are very graphics heavy and require a good solid internet connection, you need a system that's able to keep up and won't let you down mid way through your games. Do plenty of research, check what kind of specifications you need to run current games and what kind of machine will play comfortably the things that you want to go on. It can be worth going with a machine that can be updated since they tend to get more and more graphics heavy over time so you want something that will last. You need a high definition monitor too to give you crisp, sharp picture for the ultimate gaming experience.
Surround Sound System
As well as incredible picture, you of course need the best sound to feel like you're in the game and enjoy it to its best potential. You can get incredible surround sound units that are designed just for gamers, and a good pair of headphones is essential for times when you can't have the sound all the way up. Perhaps you're just back from a night shift and don't want to wake everyone up, or just don't want to disturb kids or other family members. Choose a noise cancelling pair with surround sound, that way you don't lose out on any sound quality just because you can't have the volume up full blast.
Other Bits and Pieces
You could really have fun with the other bits and pieces in the gaming room. From a fully connected Lazy Boy recliner complete with fridge to an arcade machine that you found a great deal on on eBay. How about an awesome vinyl record player, or even a fish tank with lights that you can change the color of. Have a scour around at both old and new technology, see what catches your eye and what would work well in the space that you have. Since a gaming room isn't especially formal like a bedroom or a sitting room, it's something you can be lighthearted with, and choose decor, accessories and gadgets to match.
What kinds of things would you have in your dream games room? Do you have any of this technology in your home already?