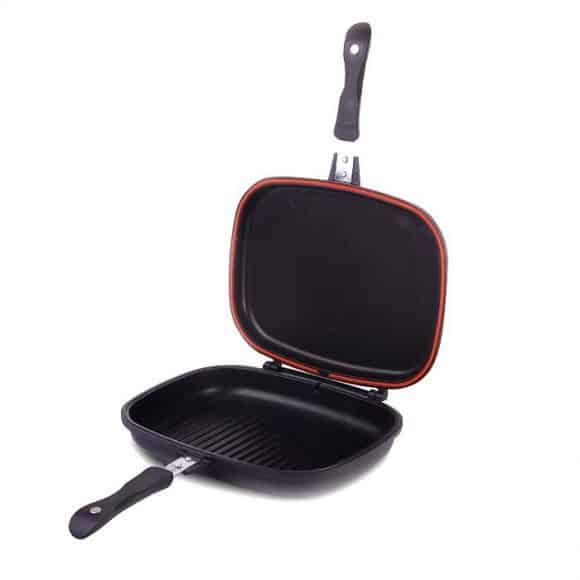 Whether you love cooking or looking forward to learning how to do the same, having high-quality cookware is the first step to avoiding disappointments as well as having an easy time. Among the high-end cookware, you will need a good pan. A good cooking pan is not only a valuable investment but also an indispensable bit of kitchenware for a person taking their food preparation seriously. The Flippable Double-Pan is an ideal choice in terms even heat distribution, sturdiness as well as versatility.
The Flippable Double-Pan looks more like a Panini press or a waffle maker. As a result, you need no utensils to prepare your favorite meal. The main feature of the pan is the two-sided option that allows one to put in their lunch. The enclosing is firm enough to allow one to flip over the pan without having to lose the contents. Such a feature makes it possible to cook both sides evenly.
Additionally, the pan is perfect for preparing various meals such as popcorn, chicken, cheese-bread, pork and more. The meal preparation process is also quick and straightforward since the contents are firmly enclosed hence trapping sufficient heat. Moreover, the gadget correctly blocks any form of splattering that may occur as a result of closing the pan.
And just like any other piece of device, a good pan should feature a high-quality material. The Flippable Double-Pan which allows cooking without Utensils features silicone material on the edges sealing. For this reason, no juices or water can leak their way out of the pan especially when flipping.
Flippable Double-Pan is easy to clean. You only wipe the gadget with a moist paper towel and store the pan for use in the next cooking. The double-pan is most convenient to both learners and experts in the kitchen matters since you don't have to cook with utensils.