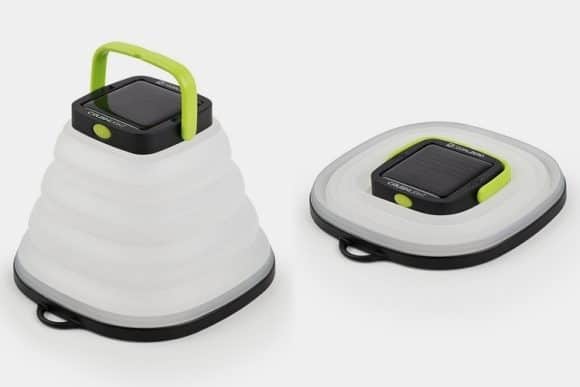 I recently came back from a 3 day trip to an off-grid cabin that we visit annually. It's a basic cabin with no electricity but there is a propane tank that powers the fridge/freezer, 2 lights in living room, and a stove. Otherwise, there is no lighting outside and flashlights and lanterns become our best friends when the sun sets. These trips are supposed to be simple yet we always somehow pack too much stuff whether it's too much food or too much gear. It's nice to be prepared but I seem to overdo it. The Crush Light Solar Powered Lantern by Goal Zero is the perfect replacement for my current lantern. 
The Crush Light lantern is like your standard lantern except that it actually crushes down so you can save on space and are able to bring it along with you pretty much anywhere you go. During the day time, put it out in sunlight and get a full charge. And once the sun sets, you can bring it out and light up your outdoor or indoor spaces.
On a low setting, the light will stay powered on for up to 35-hours! And on the high-setting, the lantern has 60 lumens of usable light. The light also features a "candle flicker" mode for ambiance.  When the device is fully crushed down, it measures in at about one-inch thick. If you're in a rush, you can also charge it via a micro USB (cable provided). The Crush Light lantern is available for $19.95.