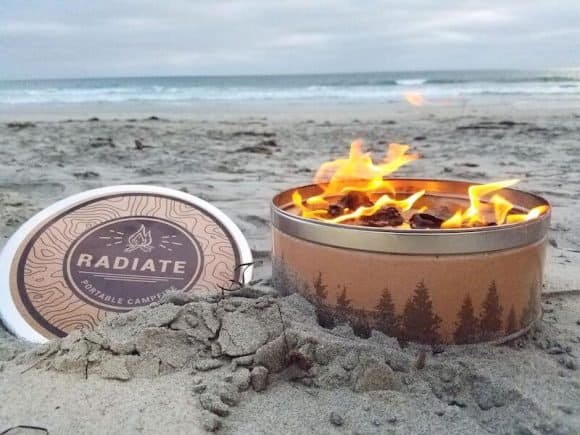 People go camping for a number of reasons and for me, the number one reason I go camping is for the campfires. Some Anthropologists believe that modern humans' relaxing response to campfires is evolutionary. I can believe it and I would think that prehistoric people would probably have gathered around campfires to keep warm, cook, and socialize much like the modern man…except that we do it for fun while they did it to survive. 
Although I personally prefer a campfire that features burning pieces of wood, the Radiate Portable Campfire is great for those times when perhaps your inventory of wood is wet or perhaps you're feeling lazy and just want a quick and easy campfire. The Radiate Portable Campfire comes in a can and is ready to be lit when you are!
Don't expect any major and epic campfires. This is something like a campfire but toned down a few notches. Still perfect for roasting some marshmallows/hot dogs, keeping warm, and of course telling stories.
The can is filled with soy wax as well as recycled paper pulp which has no smoky smell and low soot. And it also has no embers which is great if you're lighting in the backyard. It can burn for up to five hours. And when you want to put the fire out, simply put the lid back on and the fire will be put out. Available for $27.99 on Radiate.