Educating children can be a really difficult job, with teachers and parents often finding it tough to find ways to keep kids engaged on an ongoing basis.
However, advancements in technology have undoubtedly made things a little easier, with many innovative gadgets helping children to shine through their formative years.
Purchasing this type of equipment can greatly improve motor skills, enhance cognitive skills and help youngsters become far more independent.
The internet is awash with gadgets designed to support a child's education, so read on as we take a closer look at some of our current favorites.
Chuwi LapBook
With computers now an integral part of daily life, children in the 21st century are required to learn basic skills from a very early age.
With that in mind, the Chuwi LapBook is one of the best laptops you can buy for kids, providing them with a great start to life on the computing ladder.
It is powered by an Intel Celeron N3450 processor supported by 4GB DDR3L RAM, 64GB storage and a stylish 14.1in full-HD IPS display.
From playing educational games to browsing the internet and more, the Chuwi LapBook is an excellent way to boost a child's knowledge of computers.
Elenco Snap Circuits
Founded in 1972, Elenco is one of the most famous names in the educational gadget sector, with their 'learn by doing' ethos summing up perfectly what the company is all about.
Their Snap Circuits SCG125 Green Learning Kit is a brilliant innovation, providing kids with more than 125 different projects to tackle.
These include learning about how electricity works, building alarms, making radios or simply playing electronic based games with friends and family.
Snap Circuits equipment has the added bonus of being used in many schools, thus providing continuity of education for youngsters if it is used at home.
VTech Touch and Learn Activity Desk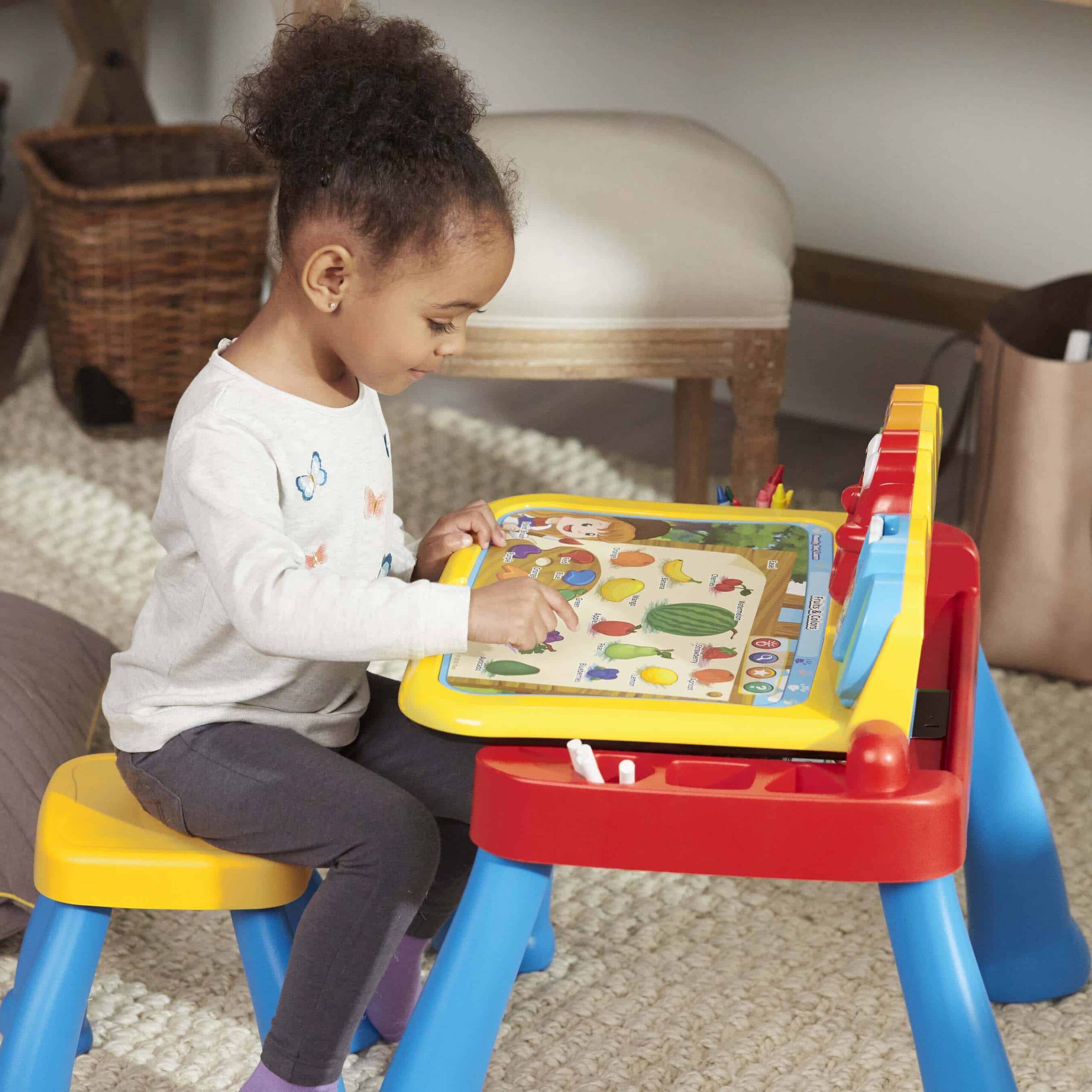 Combining tech with motor skills development is no easy task, but VTech have nailed it with their excellent Touch and Learn Activity Desk.
It uses an LED display, an interactive touchpad and sound to teach math basics, music, drawing and more, helping to keep kids engaged for hours on end.
The desk features more than 200 touch and learn spots, while the activity pages have kid-friendly graphics and reward curiosity with fun responses.
With the option to purchase a wide range of expansion packs covering different subjects, the Touch and Learn Activity Desk has a level of longevity not found in many other products.
Osmo Genius Kit for iPad
The iPad is easily most popular tablet on the market and one of the most popular tablets for kids. Many parents tend to hand down their old iPads to kids to use as an entertainment device, but there is plenty of learning value to be had there, especially with add-on learning tools. If you are looking for the best gadget to use with an iPad, the Osmo Genius Kit is the answer to your prayers.
It features five hands-on learning games that incorporate the four core STEM subjects – science, technology, engineering and mathematics.
Kids are challenged to trace pictures, spell words, make different shapes, play science-based games and more, making this a great all-round learning tool.
Osmo has also developed a cheaper version of the Genius Kit that offers most of the same experiences via an iPhone, something that may prove useful on long journeys.
littleBits Avengers Hero Inventor Kit
This Marvel-themed product is great fun for kids, giving them a solid introduction to the world of electricity and circuits.
It incorporates magnetic components that allow users to bring together sensors, lights, motors and battery into a fully working project.
Supported by an app which is downloadable to iOS or Android devices, the littleBits Avengers Hero Inventor Kit comprises numerous challenges that kids must complete.
Some of these involve simple programming tasks, which is an excellent way to introduce youngsters to a skill they may find useful further down the line.
Meccano Meccanoid G15 KS Personal Robot
If you have never dreamed of owning your own personal robot you most probably had to endure a very dull upbringing!
Featuring more than 1,100 different pieces, the Meccanoid G15 KS transforms into a 4-foot tall companion that can play games and even tell jokes.
The robot is powered by 10 motors which control its movement, while its voice recognition capabilities will leave your kids and their friends amazed.
Compatible with iOS and Android devices, the Meccanoid G15 KS provides youngsters with endless hours of fun.
VTech Sit-to-Stand Learning Walker
In an increasingly technological world, it is imperative for children to be given some practical skills in this area at an early age.
The VTech Sit-to-Stand Learning Walker fits the bill in that respect, introducing them to numbers, music, colors and animals while they are still learning to walk.
The product helps to develop communication skills and also enhances motor skills, making it one of the most interactive gadgets you can buy for a child.