It's a real pain trying to predict the unpredictable such as ….weather. The weather forecasts are decent but not always accurate. I'm certain many people have been screwed over in the past because of these weather forecasts. In the winter months, the weather can go from cool to freezing in a matter of minutes. You can be well prepared with ThermalTech, the world's first solar powered jacket.
The company claims that the material used can capture the power of the sun to heat you up to an additional 20°F in as little as two minutes to keep you warmer for longer. The idea is to have more warmth faster while reducing the bulk compared to traditional winter wear and jackets. The jacket is embedded with ThermTech smart fabric technology which allows it to harness the power of the sun instantly transforming the sun's energy into heat to keep your body nice and toasty.
The jackets are very light in weight, waterproof, and breathable while you enjoy outdoor activities such as hitting the slopes, hiking, camping, and pretty much just hanging outside whether in the city or out in the wilderness.
Features on the ThermalTech Solar Powered Jacket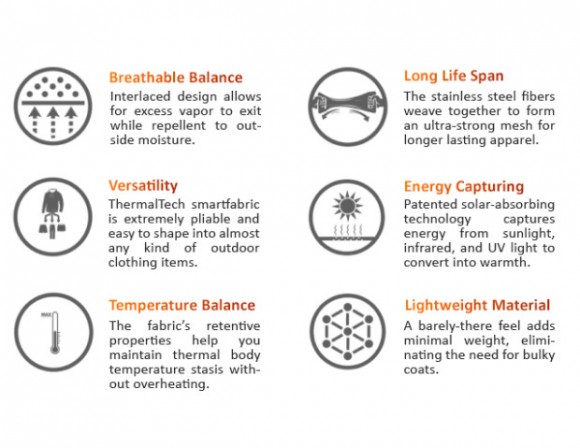 The ThermalTech jackets are available in three different styles for different conditions. Available in Street, Explorer, and Extreme. The project is currently being crowd funded and the early bird special is $149. Checkout the ThermalTech Crowd Funding page for more details or their website.