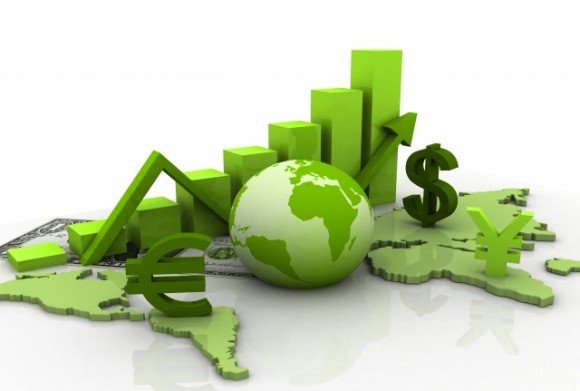 Imagine a currency that falls outside of any of the traditional financial rules and regulations of cold, hard cash. One that lets you skip dealing with banks and allows you to transact directly with your peers. As an added plus, this currency is a great way to invest and make extra money.
You'll have to imagine it, because it's all digital. This isn't currency you can fold up and put in your wallet; it exists in the world of computers. However, digital currency isn't some whim of the future: it's already here – and people are going online to trade it, use it to make purchases, and grow their investment portfolios.
Bitcoin Basics
Perhaps the most well-known form of digital currency is Bitcoin. People get them buy purchasing them from other Bitcoin users. They trade them back and forth. Bitcoin can also be obtained by using computer software to "mine" for them. One bitcoin is currently worth $1,215 USD.
What's the benefit of owning bitcoin? Many people love the system because it's decentralized and anonymous, meaning that there are no rules and restrictions on what one can do with one's hard-earned money. There are zero transaction fees and transfers can happen with the click of a mouse with no waiting periods.
As bitcoin has grown more popular, it's moved beyond the world of online collectors and traders. Many large companies now accept bitcoin as payment. Users can purchase Xbox and Windows software from Microsoft, a sandwich from Subway, or a brand new Tesla with their bitcoin wallets.
Hot on the tail of Bitcoin is Etherium, a newer cryptocurrency that's quickly growing in popularity. Etherium has almost tripled in value over the past few months, moving from $12 to around $43.
A (Digital) World of Opportunity
Digital currency is more than a passing trend; it's the lifeblood of a thriving investment community that has users watching their portfolios soar. While there are various platforms on which to trade in digital currency like Bitcoin and Etherium, one of the most exciting networks is eToro, which has established itself as the leading "social trading" platform.
What is social trading? These kinds of platforms encourage traders to create and share CFD (contract for difference) trades. This allows other users to see what other users are doing and "follow," "communicate," or "copy" them.
Super Investor
One of the hottest eToro traders to fall in line behind is Jaynemesis, who goes by Jay Smith when he's not making money on eToro. His portfolio is comprised of Bitcoin, Etherium, and tech stocks and he's made 85.35% in profit by spending two to three hours a day on eToro over the past year.
Jaynemesis was an early adopter of Bitcoin, buying in when it was only valued at $12 a coin. Since then, he's developed a deep understanding for the digital currency market and how to make the best trades. He remains undeterred by regulators' rejection of Bitcoin's bid to become an ETF.
"Despite denial I remain bullish on Bitcoin," Smith says. "The COIN ETF was the first of many, and although the commission voted against it on this occasion there are several more ETF's ready to learn from this. It's clear that over the last few weeks we've seen the price rally expecting a thumbs up, so this sharp drop will hurt a lot of investors – my eToro copiers included – but in the long term, the bull trend is likely to continue. The appeal of Bitcoin to countries facing high inflation, currency controls, and corruption is only growing, as is the infrastructure surrounding the currency."
Bitcoin breaking into the world of ETFs isn't the only potential that investors are eagerly awaiting. They're also watching the Hyperledger project, made up of more than 100 of the world's top financial institutions, which is considering using the Ethereum block chain to build a monetary settlement system. There's also an upgrade in the works for the Ethereum system – one called Casper that will be faster and stronger than ever before.
With all of these changes and positive movement afoot, theres never been a better time for investors to get on board, follow, and copy successful eToro investors like Jaynemesis – folks who really know what's happening in the world of digital currency investment.