The summer has finally arrived, bringing with it warm weather, outdoor activities and whole host of sport. Although we are midway through the World Cup, there is plenty more on offer to enjoy such as Wimbledon and with garden parties and gatherings likely, it is crucial you pick out the best TV for the occasion should you not have one already.
However, costs can add up, given that you need to purchase add-ons such as LCD TV extended warranties to ensure your new purchase is protected – because after all, you wouldn't want to host the sport with a TV that isn't covered for damage! With that in mind, we have picked out the best of the bunch when it comes to budget and discount TVs that are on the market this summer.
An immediate pick out of the huge variety of offers is the Samsung UE32F6800, which is one of the cheapest 32-inch TVs on the market. This particular Samsung offers great picture quality and even comes in the 3D format, allowing you to watch the sport in optimum conditions. The TV also has a wide range of video streaming sites available to use, with high quality service as well, not to mention the high motion-rate and the option of HD. At a price of under £600 it is certainly one of the bargains of the summer and will likely offer you a more than satisfying experience of not just the sport, but anything you watch this summer.
The next TV on our budget list is the Samsung UE42F5000 and although the TV loses appeal due to the fact it cannot support HD material, it makes up for it with a price of £400 and the fact it is a whopping 42". Pair this with the ability to plug in HDMI cables and the fact that it offers built in Wi-Fi and you are left with a very good television at an affordable price, which might be the best option for budget buyers given the summer is already upon us. If you aren't sold on the product yet, then the addition of Blu-ray playback may help, although if you are buying a new TV for the sport, it won't really matter to you if the system has Blu-ray or not.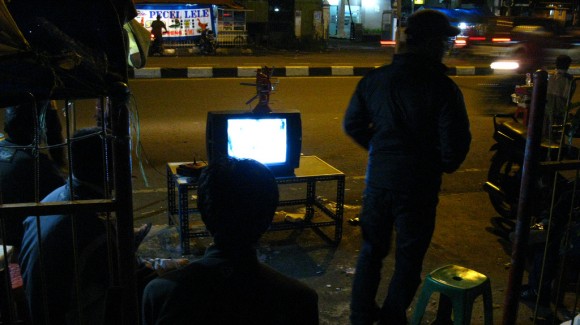 Moving away from the Samsung brand finds us at the Panasonic TX-L32E6. This is even lower in price, standing at just £360, which is a bargain when considering it is a 32-inch screen with LED lighting that offers various multimedia playback options. It is a Smart TV with many features that would otherwise be unavailable and offers a stellar picture quality, making this TV a clear pick as a bargain for buyers, despite the lack of 3D playback.
Photos: Rusty Clark and Ikhlasul Amal